Kennels & Catteries
Ready for a Kennel or Cattery Refurbishment or Building a New One?
Skew Hill
In the press
Read press articles about this project which appeared in Kennel & Cattery Management magazine.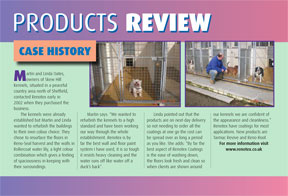 Examples of work on kennels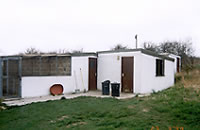 Before.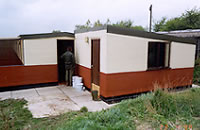 After. Colours used: Cream & Brick Red smooth rollercoat.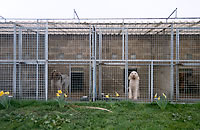 Blockwork awaiting rollercoat treatment.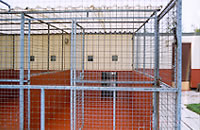 Rollercoat being applied in 2 coats.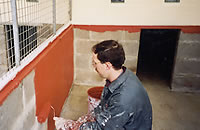 After.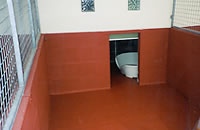 Brilliant result.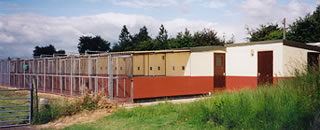 An editorial which appeared in Kennel and Cattery Management Magazine Feb / March 1999:
Philip and Marianne Bolton, of Merizel Kennels and Cattery at Thorner near Leeds, were fed up with high maintenance costs to keep kennels hygienic and looking good, especially on the inside. Also, on the outside walls, there was the continual filling-in of cracks and render that had deteriorated due to the weather, and continual re-painting. He was looking for a product with a longer life, more of a coating than a paint. Previous water based masonry paint had a short life, and the cement render was cracking and failing. Renotex seemed to have the answer. Normal masonry paints are water-based and do not give adequate protection against the continual washing down of surfaces attacked by animal wastes. Rollercoat is resin based so can be hosed down with no detrimental effect.
Solution to government regulations
Due to government regulations, kennel and cattery walls have to be impervious to liquid penetration, so disease can't spread. The chemical suppliers assured us that all the components in the coating are completely safe in an animal environment, even if a dog or cat managed to eat some from the wall! This is most unlikely to happen because the, coating dries rock hard once it has cured a day or so after application, and would be just about impossible to scratch off. Renotex Rollercoat has been developed by Walltex Coatings Ltd whose exterior wall coating products have been tried and tested for 22 years.
Easeof application
Philip himself applied Renotex Rollercoat to the inside and outside of the kennels, and thought the covering power was so good that he then asked his decorator to apply it to the outside of his house, garage and large outbuildings. It was certainly versatile and good value for money. Paul Gledhill, the Decorator, said he had never used anything like it before. "It was so smooth and easy to apply and had such tremendous covering power. The effect is stunning." As Marianne hosed down the walls later on, she was intrigued to see the water just running off the walls "like water off a duck's back!" She found it reassuring to hose down the kennels with no fear of water penetration into the surface of the wall.
More than a paint
Rollercoat is easy to apply by any competent DIY person or tradesman, rendering, blockwork, brick, metal and plywood. Apply it straight from the tin, with brush or roller. On previously painted surfaces, power washing or brushing is recommended to remove dirt and any flaking paint; and if the surface is friable or porous, it should be primed with a 10% dilution of white spirit and Rollercoat. Cracks should be repaired with flexible filler but, depending on the finish, the coating will fill in smaller ones. Once cured it is quite difficult to remove. You should also protect the floor with dust-sheets to guard against any stray material. The reason you have to be so careful is that Rollercoat is formulated with a polyester resin which literally bonds on to the surface it touches. Other components are a Polybutene plasticiser which gives it flexibility (you can bend the coating through a 180 degree arc and it will not crack); a fungicide, mica, a volcanic material which adds resilience against the weather; and a silicone to stop damp penetrating. There are obviously other components. It is a complex coating, which is why it is so good. It can be applied to virtually any substrate - brick, render, blockwork, pebbledash and plywood and even metal. It is reasonably micro-porous, so buildings can still breathe through its thick coat. The visual effect is smooth, bur there is also a Rollercoat Highbuild which gives a heavy textured surface.
Polymer Modified Render
The rendering repairs and the rendering on the walls were done by Colin Wright (Builders), using Renotex RENO-PREP RENDER, a polymer modified render containing silica sand, cement, adhesives and dryers, and reinforced by fibreglass. This bonds to the wall by adhesion, not by suction, and is less susceptible to cracking. Colin said: "It is easier to apply than normal render, all you do is open the 25 kilo sack, pour into your mixer and add water". This is applied as a normal render with a wood float or sponge finish.
In the press
Read press articles about this.
Terms of Sale | Copyright © 2014 Renotex Ltd. All rights reserved.